We started our cooperation with Medicover in March 2018. As a part of it, we took care of the development and implementation of the brand digital presence strategy on Facebook, YouTube, and Twitter channels. In addition, we conduct brand awareness activities, and product campaigns and take care of service and good relations with customers on social media. Below we present the results of our actions so far.
About the customer
For over 20 years, Medicover in Poland has been providing its patients with full medical care, including outpatient services, laboratory diagnostics, MRI, dentistry, and comprehensive hospital care. The services, available in the form of subscriptions and medical insurance, are designed for both businesses and individual customers. Medicover Poland is present in all regions of Poland. Since 2009, the company also has its own multi-specialty hospital in Warsaw's Wilanów district. For more information, please visit www.medicover.pl.
Medicover Poland is a part of Medicover - the leading international company providing healthcare and diagnostic services since 1995. Medicover operates medical centers, hospitals, specialist care facilities, and laboratories. The company conducts its most extensive activities in Poland and Germany. Currently, Medicover has 15,900 employees and generates revenues of around 580 million euros.
Challenges
Medicover Poland provides services in a very demanding area - health, so its patients pay great attention to the quality and method of communication with users on social media. For each potential or current patient, they are a showcase of services provided at the center, therefore we have paid most attention to the challenge of customer service. When we started our cooperation, each party had a clear goal - to reduce the response time to user queries.
Co wpływało na tak długi czas odpowiedzi? What was the reason for such a long response time?
First of all, the medical industry is subject to many legal restrictions, and every communication coming from the brand has to be in accordance with these regulations,

Medical content requires prior consultation with a specialist in a given field,

The topic of health raises many emotions, which results in increased discussions among recipients, therefore constant monitoring and quick reaction is necessary,

The Personal Data Protection Regulation, which came into force last year, strongly limited the possibilities of direct customer service.
The above aspects affected not only customer service but also had an impact on the choice of appropriate communication.
What results did we achieve?
We have created a communicatively and graphically coherent website visited by a loyal, returning audience. We maintain constant contact with users, which results in more frequent and willing contributions in comments and private messages. Periodically the response time to some questions increases due to content verification, but we manage to keep the average response time at a satisfactory level. We have also observed the creation of natural ambassadors expressing positive feedback and recommending brand content to their friends.
Below is a comparison of data from 3 periods:
November 2017 - situation before the start of the collaboration
March 2018 - beginning of the cooperation
November 2018 - situation after 9 months of cooperation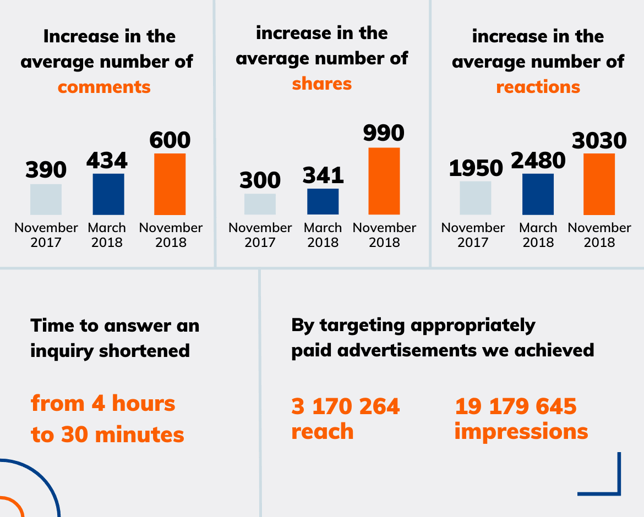 We also present sample posts and what audience engagement looks like: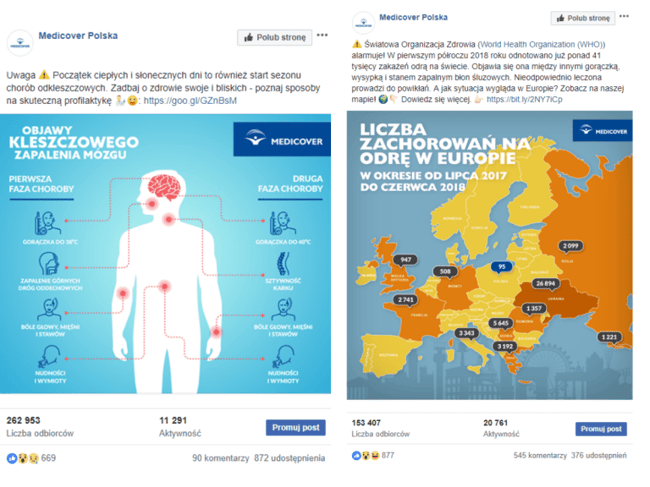 How did we get these results?
Workshops
This stage was the key element. During the workshops, we could thoroughly understand Medicover's business. We found out what challenges it faces, we also defined the most important needs of our client and its diverse target groups. We worked out together what we have to achieve and prepared an action plan. Thanks to the workshop, we were able to create exactly the strategy that our client expected.
We adopted three main objectives of cooperation:
Strengthening brand awareness and loyalty of potential and existing customers - here customer service played a huge role.
Increase brand awareness and sales of services and products - by optimizing existing activities and product campaigns.
Creating, in close cooperation with the PR and social media department, as well as the medical department, quality and substantive content that can be a valuable source of knowledge for each patient (each content material created in cooperation with doctors).
Strategy
We worked out the strategy of everyday activities, the way of moderation, and also the scenario of dealing with crisis situations. Thanks to the prior knowledge and understanding of the client's business, we were able to create an appropriate communication strategy in order to, on the one hand, maintain the content at a high level of relevance, and, on the other hand, create a community of loyal users around the brand who are eager to respond to our content and want to stay up to date with it.

The document also includes elements such as:
key assumptions on how social media can support the company's goals,
selection of appropriate channels, tools, and messages,
analysis of the audience and the brand's communication so far
examples of communication from the market,
selection of appropriate and consistent graphic and text communication.
Communication in social media
We have focused on showing that Medicover is close to its patients by being available in different channels, talking to them, sharing quality content, presenting its services and specialists, and ensuring that the message is visually appealing.
Here we can highlight three elements that we paid special attention to:
01. Matching the right messages - we highlighted more than a dozen formats, which included:
current topics that arouse emotions and many inquiries from patients,

factual advice on healthy eating, prevention, etc. in the form of visually attractive graphics, written in simple language,

live broadcast with a doctor

engaging contests with prizes, (e.g.: photo contest)


02. Targeting messages to the right people through promotion and outreach campaigns.
We treated promotion as a support to build organic reach. Each of the promoted posts was targeted to the audience who had shown interest in the topic online. Thanks to this, the people reached by Medicover's content were more likely to interact and return to our content on similar topics in the future.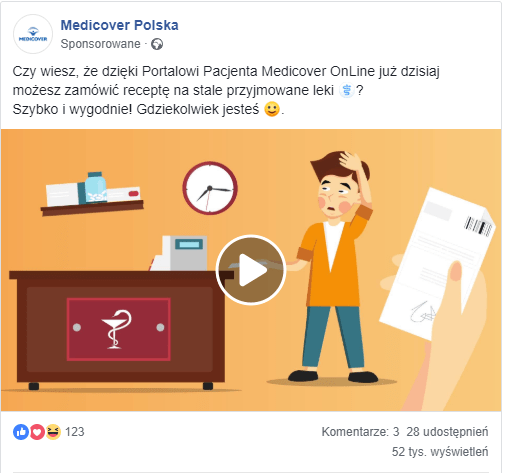 We targeted both potential B2B and B2C customers with lookalike and remarketing campaigns based on data from Medicover-owned sites and demographics, interests, and behaviors. The ads were directed to all domains belonging to the brand, thanks to which we were able to build awareness of the brand's products and services also among people who visited only one of the websites.
03.

Constant monitoring and appropriate and fast reaction.
We are focused on constant and quick moderation which on one hand encourages discussion, and on the other is based on providing informed answers to queries. We ask users to express their opinions on important topics and we are happy to discuss them with them. In addition, we deal with customer service in private messages to the extent allowed by GDPR introduced last year.
What factors determined the success?
We highlighted the factors that, in our opinion, determined the positive effects of this partnership.
Comprehensive and individual approach - from the beginning, we think about the project from a broad perspective. We tried to understand the business and propose solutions that will contribute to the realization of goals.
Knowledge of the medical industry. We have already had the opportunity to work with clients in this industry, so we could quickly implement and propose the right solutions
Experience in working with topics that raise a lot of questions, concerning "hot" medical topics and provoking discussions (e.g. vaccinations). We knew how to react and talk to users regardless of the situation.
As a healthcare provider, we rely heavily on patient trust for our business. That is why we attach more and more importance to the way we communicate, also on social media. With the support of the agency, we are realizing the potential of this channel in a better way and accurately responding to the challenges it poses. This is evidenced by the level of user engagement and response time optimization (very often Facebook is the first contact tool for the patient, and we must always be ready to respond quickly). Another important aspect, apart from response time, is the quality of content, which we create on an ongoing basis based on trends in Google and the seasonality of infections.

We consider the most important for this cooperation to be:

- a comprehensive approach,
- commitment and looking at the business as a whole, and at social media as a tool for achieving its goals,
- partnership and trust, resulting from the experience of Whites Agency in the medical industry and others, which translated into well-chosen communication, and consequently, appropriate response in each situation and understanding of the market.

Justyna Gościńska-Bociong
PR and Communication Manager, Medicover Polska